Hello, friends!
How's your Wednesday going? I'm happy to be halfway through the week that Pat comes home! He's my favorite human to spend time with :)
Which is a GREAT transition to today's post. My blogging bff Tamara is
hosting a thought provoking link up
for the next forever -- 30 topics in 30 weeks, inspired by these two articles about things to
do for yourself
and things to
stop doing to yourself
. Because I know everything Tam does is awesome, I decided to participate.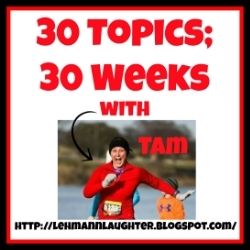 And today's topic is based on the first two pieces of advice:
Stop spending time with the wrong people and start spending time with the right people.
This topic is actually quite timely for me, as I am trying to sort through some friend
feelings
right now. And feelings are the worst.
Over the years, I've had a few friendships that aren't so great for a little while. One of us does something to hurt the other's feelings, or one of us drops off the face of the earth for a long time. Sometimes I'm the bad guy in these scenarios, and sometimes I'm not. But, mostly, we've always gone back. There has almost always been a final push to say, hey, you're really important to me, and I want you in my life. And then we've rebuilt a healthier relationship.
So currently, I'm struggling with a friend. And it has been probably about two years of not-great friendship. But recently I took some steps to repair it. (based on the logic that someday, I'm going to get married, and I always pictured this person at my wedding. maybe dramatic, but it pushed me to pick up the phone.)
Already, though, I'm feeling anxious about this relationship. You know that cheesy saying, don't make someone a priority when you're only an option to them? I have always kind of rolled my eyes at that one, but it's pertinent to this situation, I think. I have felt like an option for so long. A back up plan. I don't want to just be an option anymore. Because that's not how I operate, and it hurts when someone treats me like that.
So how do you know when to cut the cord? When to wash your hands of someone and move on?
The inspiration article says,
"Life is too short to spend time with people who suck the happiness out of you. If someone wants you in their life, they'll make room for you. You shouldn't have to fight for a spot. Never, ever insist yourself to someone who continuously overlooks your worth."
I hate the idea of giving up on someone. I love people, and I still love this friend. But trying to force a relationship when it makes me feel crappy and anxious? I don't want that either.
What do you do when both the relationship and the idea of giving up make you feel bad?
I don't really know where I'm going with this. This whole post is probably vague and obnoxious. But I guess I'm curious --
Have you all ever had a friend who made your heart hurt, but you couldn't let them go, either? What did you do?