Hey friends!
Today is the second week of the 30 Topics link up! If you missed it
last week
...
My blogging bff Tamara is
hosting a thought provoking link up
for the next forever -- 30 topics in 30 weeks, inspired by these two articles about things to
do for yourself
and things to
stop doing to yourself
. Because I know everything Tam does is awesome, I decided to participate.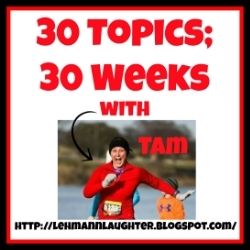 And today's topic is based on the first two pieces of advice:
Stop running from your problems and start facing your problems head on.
I tend to put off some of the difficult things.
Sometimes, I don't think I can help it.
Anxiety
is a beast, and sometimes I don't have it in me to do things. So I procrastinate and push stuff off another day another day a n o t h e r d a y.
But mostly, I find that when I do finally do that thing I don't want to do, there is relief. There is closure. There is the feeling that even if I didn't do the thing perfectly, or even to the best of my ability, the thing is done and it's not a rain cloud over my head anymore.
Sometimes, I just have to remind myself that I'm doing the best with what I have and giving what I have to give.
OTHER TIMES. Other times I wish I could get my problems over with. Like this whole finding-a-job thing. Wouldn't it be great if I could find a dream job and have it already lined up, I don't know, like yesterday? So that is one problem I would LOVE to face head on. But it's filling a water bottle from a from a leaky faucet with a slow drip and I'm getting there with each little drop. Someday. Someday. Someday.
I think life would maybe be easier if I could face everything head on. Get it done now. But as a human who requires a lot of time to think and to process, I am not sure I would be happy in that world, a world where I don't take the time to consider my solution and act on it before coming up with alternatives.
Are you a slow processor? Do you face your problems head on?