Hey friends!
Ok, it's super official that this is a link up now! Look at the awesome button
Tamara
made!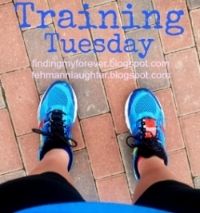 Feel free to grab the button if you're linking up! And add your link here:
"This will just be a way to talk about training [in any way for anything] to help hold ourselves accountable and possibly brag a bit. I mean, you ran 1 mile without stopping – you totally deserve a chance to brag about it! That shit is hard.
And even if you're not training for anything, you're just putting yourself out there to be healthier, to get slimmer, to whatever you can share it on Training Tuesday. Let's say you were sitting at home and instead of eating a carton of Oreos you instead ate 20 devil baby carrots [hypothetical situation, of course] – share it here!
Abbey & I don't discriminate – we congratulate."
So. If you're in the process of any kind of self improvement, feel free to link up!
And now, on to Training Tuesday!
First, a quick rundown of the week, then on to something that was on my mind after my Sweetheart Run 5k.
Workouts this week:
Tuesday: Four miles outside.
Wednesday: Rest/cross training. I picked rest.
Thursday and Friday: SNOWSTORM! Nine inches of snow. No running for meeee.
Saturday: Went to my sister's and used her for her treadmill. Miserable 2 miles, but 2 miles nonetheless
Sunday: My 5k got cancelled because of the snow. Womp womp. Ran the 3.11 on the rec center track
Monday: 3 miles inside.
Pits of the week:
I MISS RUNNING OUTSIDE. I'm getting really burnt out running on the track/treadmill and have been counting down my distance.
Also my 5k got cancelled. That was sad.
Peaks of the week:
Debbie downer, but no running-related peaks this week. We did, however, get three snow days (including today!) so that's exciting.
Can you see all the piles of plowed snow? It looked SO COOL in person. Not sure it came through in the picture.
..:..:..:..:..:..:..:..:..:..:..:..:..:..:..:..:..:..:..:..:..:..:..:..:..:..:..:..:..:..:..:..:..
Why I think starting to run is the hardest part
So I haven't trained for a half yet. But I have trained for a 10k and a 5k.
Without a doubt, I can tell you that for me, the 5k was WAY more difficult to train for.
I admire runners who are just getting started so much. Yeah, I'm impressed with the women who blow past me running their 6-minute miles. But the ones that really make me want to drop a "You go girl!" are the ones in the non-fancy running clothes, at the back of the pack, breathing crazy hard, but still pushing through.
Because I think becoming a runner is the most difficult part of being a runner. Here's some reasons why.
You know you can stop at any second.
When I first started running, I was pushing to run two minutes straight. As my time started to increase, though, a thought I consistently had was, "I could stop at any moment."
Really. At any second you could stop running and just walk instead. You could turn around and go home. You could shut down the treadmill.
You'll read it everywhere, but I'm going to say it anyway -- running is such a mental sport. And I think, for me, building up that mental and emotional fortitude, whatever it was in me that meant I didn't start walking instead of running, took more time and effort than building up my physical ability. I have been amazed at what my body can do, guys. But the fact that I choose to do this -- that I choose to run for 45 minutes or an hour or more? -- I think that's maybe even more incredible.
You may not feel like a runner.
It was a long time before I felt like a runner. I sure wasn't fast -- or what I thought was fast. I don't look like what I thought runners look like -- I don't have a gap between my thighs, I'm not super thin, my calves aren't super defined. I didn't have all the fancy running clothes. I was running in old tshirts and athletic shorts from who knows when and four-year-old Nike shocks.
I felt like a faker for a while. Like a "jogger," which generally isn't viewed in the same way as a "runner."
I learned you have to come up with your own definition of what it is to be a runner, or what it is to be an athlete.
I am both.
I am a runner because I run just for the sake of running. Yes, there are some days when the dessert I want or how much I ate the night before are additional motivations. But signing up for races? And the runs I take just because it's gorgeous out or just because I want to -- those runs are for me, because I love it.
I am a runner because I think about form. I think about what part of my foot is hitting the ground and how my breathing is. My second 5k time wasn't awful, but I felt miserable because I was breathing heavy and struggling through the whole race. But you know what? Worrying about my breathing instead of worrying about my time makes me a runner.
I am a runner because I work to improve. I keep track of my pace, my form. I'm learning about fueling my body and taking care of myself in the best way possible. And I get excited about even small improvements. Joggers don't worry about improving -- they just jog for the exercise or for the calories or whatever. Runners have goals and drive -- they want to improve.
I am a runner. I am confident in that now. My blog/running bff
Tamara
helped me in realizing this along the way -- if you need running inspiration, PLEASE be sure to check her out.
But when I first started out, I didn't have that confidence or that self identity. And sometimes, I think that makes it really hard to get out there and pound the pavement.
So this week is a shout out to all you newbie runners. I admire you. Love love love.
What do you all think is the hardest part about running? Do you feel like a runner?