Hey friends! It's Tuesday again, and around here that means I talk about my training! If you're working toward
any kind
of healthy living goal, feel free to link up and share your progress. Go on, brag about yourself a little!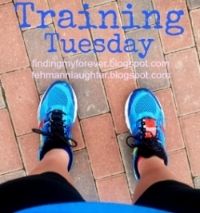 Workouts this week
Tuesday:
Two and a half miles outside
Wednesday:
Rested
Thursday:
Three miles outside -- my last in Decatur!
Friday:
Rested (slash drove 6 hours back to Kansas)
Saturday and Sunday:
It was rainy and thunderstormy all weekend, but I managed some cross training inside.
Monday:
Went out for 4 miles, came back after two. Oops.
This weekend was a bit of a struggle -- it was either raining and storming or really really hot all weekend, plus I'd just gotten home and was tired from moving and going crazy organizing and doing laundry.
I ended up deciding to switch this past weekend's long run with the upcoming weekend's run and do 4 miles, but even that ended up not happening because I went out yesterday and only did two.
I'm not really stressed about any of this though -- I feel like I've been doing decently with my training, and my body was tired, so I think I just needed to rest. Back at it today though!
How are you all doing? Any weather getting in your way?