Hey friends! It's Tuesday again, and around here that means I talk about my training! If you're working toward
any kind
of healthy living goal, feel free to link up and share your progress. Go on, brag about yourself a little!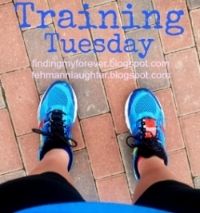 Workouts this week
Tuesday:
Intervals!
Wednesday:
Rested
Thursday:
Rested
Friday:
Ran a hills workout, which always feels difficult but doesn't add up to much distance.
Saturday:
Walked around in downtown Lawrence with friends
Sunday:
Attempted nine miles, ran 7.5
Monday:
Rested
Not much to say about this week. Just trying to keep going. Sunday was a pretty rough run -- this training cycle has been full of them and I'm trying not to think too much about what that means for race day.
Thought of the week:
From
Runner's World
:
"But first, one crucial point: It's important to understand that you'll need to adjust your pace in hot weather, both your training pace and your expected race pace. A smart hydration plan does not mean you can run fast in the heat; you can't. Smart hydration primarily helps you to run healthy. In the marathon and longer distances, carb-laden drinks can also extend your endurance somewhat. But proper pacing for your fitness and the environmental/geographical conditions is always the most important consideration."
How are your workouts going?