Hey friends! It's Tuesday again, and around here that means I talk about my training! If you're working toward any kind of healthy living goal, feel free to link up and share your progress. Go on, brag about yourself a little!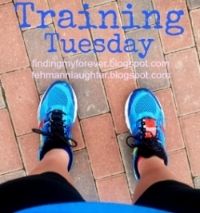 Workouts this week:
Tuesday:
Rested
Wednesday:
Rested -- drove back to Kansas! Woooo.
Thursday:
Rested.
Friday:
Ran two miles. For America.
Saturday:
Rested
Sunday:
2.5 miles
Monday:
Seven miles on a treadmill. Woof.
Lots of rest this last week. Early in the week, I really just needed it, you know? And then once I was home, it was really tough to make myself get out and run. So I switched my long run to Monday and did a lower-mileage week. But it was good. I feel good about the week.
I pushed my long run to Monday for a few reasons. I was home with Pat and didn't want to sacrifice an hour and a half. It was hot as heck out and humid on top and I didn't have access to anywhere to run indoors.
And mostly, I think, I was anxious about the long run. But I actually did really well -- hit my goal 10k time and kept going to finish out the whole 7 miles in decent time.
I'm not sure when I'll get over this. I had some bad runs, but that happened last round of training, too. No need to get anxious about it. But I do. And I run inside like a weenie. Not that there's anything inherently wrong with running inside -- but there is when it's because you're scared to run outside.
I need to get over it because I have two races coming up and guess what -- races almost always happen outside! But I'm hoping if I keep doing my shorter runs outside and my long ones inside, maybe it will balance out?
No big topic today friends. Just these small musings.
I hope your goals, big or small, running related or not, are going well!