Hey friends! It's Tuesday again, and around here that means I talk about my training! If you're working toward any kind of healthy living goal, feel free to link up and share your progress. Go on, brag about yourself a little!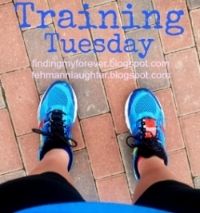 I hate to say it, but I only ran once since the last Training Tuesday. It was one of those weeks where other things are just more important. The one run I did went well -- 3.5 miles outside in the hot and sticky, but a good run.
Fortunately, this was a reduced mileage week as far as my training plan goes -- I was SUPPOSED to give my body a break (though, not this much of a break). So I'm not really too worried.
I hope you all have more to report than me! Can't wait to hear! (read :)