Hey friends! It's Tuesday again, and around here that means I talk about my training! If you're working toward any kind of healthy living goal, feel free to link up and share your progress. Go on, brag about yourself a little!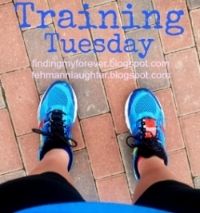 Workouts this week
Tuesday:
After all my big talk last Tuesday, I ended up taking a rest day. I was really sore and didn't feel like pushing it.
Wednesday:
Intervals! Inside. It was stormy!
Thursday:
Three miles outside. Turned off the voice feedback that tells me time and pace and ran with my audiobook going -- and actually kept a really good-for-me pace!
Friday:
Rest day.
Saturday: SIX MILES.
Woooooooooo.
Sunday:
Cross -- I took an hour-long walk and did some hip stretches.
Monday:
Two and a half miles. I felt like I was running a lot faster than I actually was.
So last week my
Training Tuesday post
was all about my crappy-as-of-late long runs and what I planned to do about it. And I'm proud to say I did every dang thing I said I was going to do
(stuck to my training schedule, drank a lot of water, turned off the feature that tells me my pace at each mile...)
and went out and had an AWESOME long run.
Here's my splits:
To put that in perspective, I've been quitting long runs miles before I'm supposed to or taking lots of walk breaks for weeks. A good pace for me is 10:30 (although I don't like it when I'm around 11, which leaves me very little room for error). Anything faster than that is a GREAT pace.
So after weeks of feeling like a failure to get through all six miles and at a pace that makes me happy?
It was a good run.
And look at those negative splits!
(Negative splits means getting faster on each mile, which I did all but once.)
I did run inside, which is arguably easier (predictable/less harsh conditions, no hills, etc, although the gym here doesn't seem to have air conditioning so it was not too much cooler than outside). And this weekend I won't have that option unless I want to run on a treadmill, which is generally my last resort. But I'm still pumped to have made progress and have completed a long run with a smile on my face. FINALLY.
Have you guys had any workout successes lately?
I know
Kaitlin
recently had a good run after a slump, too! And Katrin went running! Shout out to both of those lovely ladies! :)