Hey friends! It's Tuesday again, and around here that means I talk about my training! If you're working toward any kind of healthy living goal, feel free to link up and share your progress. Go on, brag about yourself a little!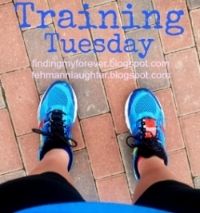 Workouts this week
Tuesday: 3 miles. I could have done intervals but I just plain forgot. Whoops.
Wednesday: Cross/rest day. I walked ALL OVER campus, so I counted it as half rest, half cross :)
Thursday: Shoulda ran, but it was supposed to rain all day. (This was before I figured out the weatherpeople were liars.)
Friday: Was still supposed to rain all day, but I got out there anyway for 3 miles.
Saturday: Rested
Sunday: 4 miles -- longest run since my half, and a run that made me not believe I ran 13.1 miles not too long ago because now 4 miles is hard
Monday: 2.5 miles
Make running exciting again
Have you guys ever experienced burn out with running? Like, you have a goal, and you want to get there, but man, you're really tired of running 4 times a week and you just need a break. I feel like it hits me a lot. Here's three (free!) ways I've found to get over it:
ONE. Run somewhere new.
I have loved running here in Illinois (my summer home during my internship) since I got here last week! But already I'm itching for some new scenery. When I get bored with my training plan, I like to switch it up. Once, it was just a half-mile detour up a hill, but it was so invigorating! Now I'm a huge believer in switching up the scenery.
Running sites like
dailymile
and
mapmyrun
can help you plan a route, and
Nike+
can also show you popular routes in your area as well as a heat map showing where people most often run.
TWO. Get new music.
Sometimes the only way I can get out the door is by thinking of testing out that new song I just put on my playlist. I've also tried audiobooks and podcasts on my run. I've put my music on shuffle to see what comes up that works really well as running music, and once I listened to stand up comedy while I ran.
If you're looking for something new, here are
some of my favorites
. You can find some other lists on my
Get Fit Pinterest board
. The app Songza also has a concierge feature that plays music to fit your activity or mood, so if you have a smartphone, give that a try. And if you're into comedy or audiobooks, hit me up and I'll make a recommendation!
THREE. Try a different kind of run.
One of my favorite workouts to work into my schedule is interval training. After a five-minute warm up, I'll run at a pace 60 seconds faster than my comfortable speed for a minute, then do a slow speed for two. When I want to push myself, I up it to a minute and a half. Do five or six repeats for a killer work out!
For some other speed-focused workouts, check out
this post
on Healthy Tipping Point. I'm also hoping to work in some stadium stair sessions and some tempo runs, which I've never done before (here's
the basics
and here's an
in-depth discussion)
.
Do you guys ever get bored with your workout routines? What are your boredom busters?