Hi friends!
It's time for Training Tuesday! Link up here and grab a button, if you want. :)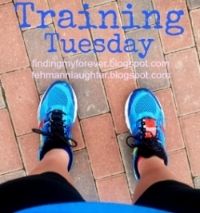 I'm not going to go into my workouts for this week. I'm antsy and in my taper week. Ain't nobody got time for that. It's been pretty standard except that my long run this weekend was 5 miles instead of you know like 11 or 12.
But ya'll. How can I talk about this week when all that's on my mind is Saturday?
MY RACE IS SATURDAY.
I can't believe it's almost here and all I think about during my training runs now is the race. I've already been stressed about packing (packing is NOT my strong suit) and wondered if I should start my suitcase while I'm thinking of all the things I'm sure I will forget. I think, How should I pace my race? Will I go out too fast? What's this deal about race times being 30 seconds faster than training times? Do I need to make that happen or will it happen naturally?
Here's the schedule of events for this weekend:
Friday: Pat and I will head home probably as soon as we wake up and eat. I'll drag him and maybe Anna to the expo, which I forgot about until yesterday, so that should be pretty fun. I'll try to go to bed as early as possible.
Saturday: My race starts at 7:00 am. SEVEN AM. So, you know, I'll probably wake up at like four or something. Actually I haven't decided what time I'll wake up, but I'll try to choke down some food and then head to the start line. My book says to be about an hour early.
The starting gun will go off and then I'll run for 13.1 miles and then I'll collapse and eat a smoothie because they have those at the finish line.
Saturday night I'm hanging out with my friend Layne, who got me into this mess in the first place. :)
So, I started this journey forEVER ago with some
goals for training
:
The first was "hit all my long runs."
If you read last week, you know I'm not sure if I did that or not. I got out there for all my long runs, but I quit my last long run early and sat in the grass in front of a bank until Pat came and got me. So, you know, not a super successful run.
Run at least 85% of my total runs.
I actually didn't think that would be a problem. I think I've missed 6 runs at this point? I was allowed to miss 8. So, cut it close, but made it. I'm really glad I had this built into my goals because having perfect training was too much pressure, and life happens, and some weeks I was just tired. So it was nice to be able to take a break without beating myself up too much.
Know myself by race day.
Basically, I wanted to know what to eat, drink, wear and do to make my run successful, and I think I know as much as you can. I know what I'm going to eat the day of and the night before and I have a couple options of what I'm going to wear, depending on the temperature at start time. I'm still not sure 100% about what pace to run, but that's race jitters more than not knowing what I'm capable of.
As far as goals for the actual race, first time half racers are usually advised to not have a time goal.
But of course I have a super secret time goal that I will tell you after the race if I get it. :)
Other than that, my goals are pretty simple: get a good-ish night's sleep the night before, make it to the start line on time, and finish.
Oh, and ENJOY it. This is my only first half marathon ever. It might be the only one I have my parents or either parent at, and Pat. My college bff will also be running, though we probably won't stick together the whole time, and my high school bff might be there to see me run.
That's a whole lot of good wrapped up in one day, folks.
So the next Training Tuesday, it'll all be over. And I'll have a shiny medal. And an etched wine glass, which you KNOW I'm going to use for everything -- water, milk, milkshakes, smoothies. Anything I drink for, oh, the next year is going to be in that dang wine glass.
Think of me on Saturday! :)