Hello all.
First I want to quickly express that my thoughts are with everyone in Boston. I can't even imagine what the racers and others in Boston are going through and I'm wishing for speedy recoveries of bodies, hearts and minds.
Now, on to Training Tuesday.
Link up here and grab a button, if you want. :)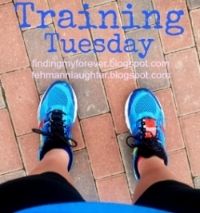 Workouts this week:
Tuesday:
Rest day
Wednesday:
Rest day
Thursday:
Two miles (inside... womp womp) Each lap, I tried to pretend it was my only lap. Finished in 19:38!
Friday:
Friday I was supposed to run 4 miles but instead I came home and fell asleep for two hours.
Saturday:
Four miles. Four FAST miles.
Sunday: TEN MILES.
Monday:
Two miles for recovery.
Pits of the week:
Okay, guys. Here's the thing. My ten miles did NOT go smoothly. At all. I blame it on the wind, which was ridiculous, and some stomach issues. I was good for the first three, then I started to REALLY need a bathroom break and started walking all over the place. Every time I ran it felt like I was going to pee my pants, and then when I walked, it was manageable. This was a serious, I'm in the suburbs but eyeing those bushes kind of need. So miles 4-7 sucked so bad. One of them was nearly 15 minutes, which shows how much I was walking. But...
Peaks of the week:
I made it home after 7 miles, took a bathroom break, then forced myself to go back out for the last three. Which was hard. But I did it. My 8th mile was pretty good -- back in the 10-minute range -- but then I let the wind and my fatigue get the best of me and let myself walk some more. But I finished. And now I've run/walked into the double digits.
When you put all of this together, it was kind of a miserable run. During the run, I was terrified I'd never make it through my half and it was going to be the worst experience ever. I was getting really scared and convincing myself I wouldn't be able to do it.
But then when it was over it's like, Holy Cow. I've done 10 miles. It wasn't pretty, but I did it. Some training plans STOP at 10 miles. I'm going to be fine. I can do this.
So that was my pit and peak this week, all wrapped up in one run.
Fueling
Not a whole lot of thought went into my decision to use energy supplements in the first place. I'd been looking for fueling advice for a while and when I was about to start running significantly more than an hour, I felt like it was time. Before my 8-mile training run, I went to a local running store and bought three different kinds of supplements, listed below.
Across the board, I just want to say none were the worst thing I've ever eaten. I feel like you hear about how awful Gu is A LOT and, going in with that expectation, I didn't think it was so bad. I chose to avoid supplements with added caffeine (or, in the Gu's case, with little added caffeine) because I'm more interested in replacing what my body uses, not in gaining extra energy.
That being said, none of the ones I tried gave me so much energy I realized or noticed a kick -- but I was able to keep on keepin on with my run and not collapse at the end, which was really my goal.
One more thing -- I bought, at the same time, a water bottle that I can take on runs with me. It's super important to hydrate when you're using fuels. I thought I pinned the article about it, but I didn't, so from memory -- when you use a fuel you're putting a LOT of substance in your body in one small shot. Your body needs water to be able to digest it properly. Otherwise you're going to have-not-so-happy results.
Gu gel in Vanilla
flavor. I didn't hate the taste and it wasn't impossible to stomach -- it reminded me of the gel icing you can buy at Wal-mart to write on cakes, you know that kind? That's the texture it has. But I knew it probably wouldn't be my favorite. If it's what they hand out at my race, I know I'll make it through now because I've had it, but I don't think Gu will be my first choice.
The second I tried was these
Jelly Belly jelly beans made for runners
(I had them on Easter :). I liked these a lot! They tasted great, they were fun, and I could portion them out and eat a few at a time. I did drop a couple -- there were like 15 of them! -- but I think they still got the job done. This link isn't to the exact flavor I tried -- I had some kind of mixed flavors, but they were red.
The final one I've tried was
Gu Chomps in watermelon
flavor. These were big gel things. Hard to explain. Maybe about the same size around as a quarter but tall. I liked them all right. They tasted great and weren't as hard to chew as I'd thought they would be.
I think my final decision is going to be to go with the Jelly Bellys for now. The other ones gave me a little bit of stomach trouble (but nothing serious) and the Jelly Belly was just my favorite. If I'm ever needing to buy a ton in the future, I might go for one of the Gus because they're cheaper and easier to find, but for now, with only two long training runs and my race left, I'll pay the little bit extra.
Do any of you use running supplements? What's your favorite?