Hello all.
It's time for Training Tuesday! Link up here and grab a button, if you want. :)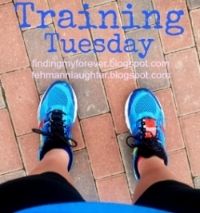 Workouts this week:
Tuesday:
4.63 miles outside. Was supposed to be 4.5 but I wasn't paying attention till after
Wednesday:
Rest day
Thursday:
Rest day
Friday:
Woke up early (five freaking thirty) and got 11 miles done before work.
Saturday:
AIM for the Track 5k! Recap... someday. Maybe.
Sunday:
Rest day
Monday:
Unintentional rest day. Whoops
Pits of the week:
I got chaffed on my long run. Boo.
That's pretty much it. Well and my unintentional rest day, but I'll probably make up for it this week.
Peaks of the week:
I PRed at my 5k!
My long run also went really well. No major complaints and I kept a good pace.
Running Gear
Since last week I shared
my thoughts on fuel
, I thought today I might share some reviews of the gear I use while I'm running.
this water bottle
, made by Ultimate Direction, from the running store in town for around $20. I like it... but it took a while. The mouthpiece is NOT normal and not intuitive. You have to pull it out with your teeth and then squeeze the water bottle really hard. It took me two long runs to figure it out, and if I'm walking, I just take the whole lid off.
But.
I like having a water bottle with me while I run (I wasn't carrying water at all before), and this one is pretty easy to carry. It's also nice to have another pocket for carrying things, like my
jelly bean fuel
. They have some with a fabric sleeve around the water bottle that's supposed to keep the water cold and your hand from getting cold. I think I'd get that version if I bought again. (Search for Ultimate Direction water bottle on Amazon and it's the first result.)
I got
this armband
(or one a lot like it) made by armpocket at the same time for around $25. It took a while to adjust to using an armband rather than carrying my phone. It bounces around more than I expected, and it's not easy to change the song or volume. But I started using the kind of headphones that have the volume thingy on the wire near the earbud and that helps a lot.
I also carried a lot of tension in my shoulders and neck when I was holding my phone, so using an armband helps a lot and I don't have that problem anymore.
these shorts
in plain black a few weeks back and LOVE them so much that I went back and got them in this color too. I've had other similar shorts that ride up but these are PERFECT and stay in place for my whole long run. And they're only 17 bucks at JC Penney. LOVE.
If you aren't ready for full-on spandex shorts, I'd look for some that have spandex underneath jersey shorts. I have a pair, also from JC Penney, although I can't find them online, and wore them for like every run until I bought the spandex ones.
this shirt
at the same time and have only worn it once, but it's only 7 bucks on sale and has the coolest thumb holes. I think I'll really like it!
Most of the time I run in basic t-shirts or a tech shirt I got at a 5k, but when I do buy actual workout clothes, I love the Xersion brand from JC Penney. I've gotten several things from that brand and have loved all of it. Plus, if you order online, JC Penney ships to their nearest location for free, so you don't have to lose the shipping cost if you end up returning whatever you bought.
What do you all love to run in or with? I'd love to hear!
PS I'm totally not getting anything from reviewing these products. Just sharin the love!