Hi friends!
It's Training Tuesday again! I'm using it to track my half marathon training, but if you have any goal you've been working on, feel free to join me and
Tamara
in the fun. We want to congratulate you!
Link up here and grab a button, if you want. :)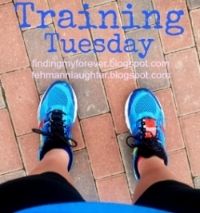 Workouts this week:
Tuesday: Typically this would be interval day, but it was kind of wet weather out and I was scared of slipping if I ran too fast, so I opted for an easy three miles instead (easy meaning an easy pace, not that the miles were easy).
Wednesday: Rest day
Thursday: Rest day
Friday: Birthday! Ran a misty two miles
Saturday: Snow. Merfed. I was supposed to run eight but had to rearrange my schedule and stick it somewhere else.
Sunday: More snow. Three treadmill miles. Treadmills are THE WORST.
Monday: Eight miles. Inside. Fortunately on the track rather than a treadmill. But still. Yuck.
Pits of the week:
I know I've said it a lot, but I am so over winter. An eight mile indoor run is no fun. And neither are treadmill runs.
Peaks of the week:
For my birthday, I bought myself some new running gear! None of it is too super exciting, but it was all stuff I needed. I got an armstrap thingy for my iPhone, a
water bottle like this
to carry with me on long training runs, some sweat-wicking socks and some Gu and other energy supplements for long runs. I'm hoping to do some reviews after I've tried it all out for a while!
And now, I'd like to share with you my thoughts during and after my eight-mile run.
First off, it went really really well. I maintained between a 10:24 and 10:42 pace the whole run, even allowing for a couple stops at the water fountain! That's about my pace during any run I go on. I finished in 1:24. What this tells me is that I have it in me to really kick it up a few notches during my shorter runs because if I can maintain that pace for eight miles, I should be able to do a faster pace for three.
No one is my friend when I'm running an indoor track.
I think a lot of cuss words and insults in my head when I'm running on an indoor track. Like, PICK A LANE AND STAY IN IT. And PAY ATTENTION TO WHERE YOU'RE GOING. And GET OFF YOUR DANG PHONE AND STICK TO ONE LANE OR I'M GOING TO RUN RIGHT OVER YOU.
I tried a Gu after the fifth mile. After hearing all about it from other runners, I was pleasantly surprised. Not that I want to eat it constantly. I just expected it to be the worst thing of my life and it wasn't.
And for the last three miles, my thoughts sounded about like this: Less than three miles left. Less than three miles left. Less than three miles left. Only two miles left! Less than two miles left. (which, really, is incredible since I never thought I'd be running more than two miles at a time.)
But after?
After my thoughts went a little like this:
I am REALLY REALLY hungry.
Or maybe I'm going to puke?
Are those cramps? What's happening in my abdomen right now?
THESE STAIRS ARE THE HARDEST THING I'VE EVER DONE EVER.
Water please!
Oh wait, maybe I really am going to puke.
Now I'm breathing really hard again. Really? Like ten minutes later?
OUCH LEGS.
And then I went home and flopped on the couch and ate spaghetti.
That, my friends, is the real life truth of running eight miles.
Sorry this post is up kind of late! I hope you're all having a wonderful week so far!
I was a big fat failure last week and still need to catch up and comment on your posts. I promise I'll be better!