Hi friends!
It's training Tuesday again. I'm using it to track my half marathon training, but if you have any goal you've been working on, feel free to join me and
Tamara
in the fun. We want to congratulate you!
Link up here and grab a button, if you want. :)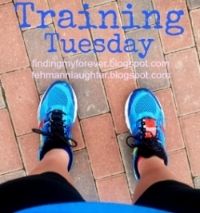 Workouts this week:
Tuesday: Intervals! My new favorite. 2.35 miles, six repititions of 1-min-fast, 2-min-slower, plus a warm up and a cool down
Wednesday: Rest day
Thursday: Ran to make up for the run I missed Monday. Three miles, rec center track
Friday: Unintentional rest day. Last week was Stressing. Me. Out.
Saturday: Six miles inside. Woof.
Sunday: Did cross (which was on the schedule) and two miles (which I was supposed to do Friday). Because I was running, I did non-cardio stuff for "crosstraining" (which I think is not the definition of cross) and I lifted weights and did some abs. I'm sore!
Monday: THREE MILES OUTSIDE! THE SNOW IS GONE AND I RAN OUTSIDE! Halle-freaking-lujah.
Pits of the week:
Ya'll... I was not smart about my long run this week. I ate a crap dinner (that tasted sooo good) a couple hours before and let's just say I regretted it during my 6 miles. The first half was awful. The second half, not as bad. But I was glad to be done. And I picked the totally wrong shorts. Won't wear those again.
I RAN OUTSIDE!
One of my classmates is also training for a half marathon. I think hers comes before mine -- I'm not sure of the date -- but yesterday she posted a picture of a charm that said "13.1." The caption said something along the lines of, I bet you didn't think I could make it this far! with the gist being that she was proving everyone wrong.
Sometimes, I feel like that's a part of people's personality -- they like to think they're proving people wrong and doing better than expected, even if the nay-sayers are imagined. And I don't know for sure if people really are telling her she can't do it or if it's self doubt or what.
But it just made me stop and think about how freaking lucky I am.
Seriously.
I barely hesitated when I signed up for my half -- and my hesitation was more about the financial risk and cost of injury than about any doubts of my ability to complete the half.
I've never doubted that, if I do my training and work at it, I'll be able to finish 13.1 miles.
And I think you all -- and my family, if you guys are reading, and Pat, who never reads -- I think you all are a big part of it.
You all are so freaking encouraging and wonderful and I love you for it.
So consider this my mini Oscar speech. Sentimentalist like I am, I'll probably end up doing another one when I finish my half (not IF but WHEN).
But I want to thank you all for encouraging me and supporting me. For favoriting my tweets about my runs, for reading my ramblings about running.
For giving me advice and ideas and music and recipes. For not thinking I'm crazy to run 7 miles on a Saturday.
For talking about running. For talking about chub rub and spandex and running shoes and treadmills.
For cheering me on from Virginia and South/North Carolina and Alabama and Washington and Nebraska TEXAS and wherever you crazy kids call home.
You all have let me believe I am amazing and I can do this thing. And I will try my hardest not to let you -- or myself -- down.
LETSS GOOOOO.
PS. I just switched my comments over to Disqus and had some technical difficulties. Please forgive me if you commented yesterday and I didn't answer via email. I'm still figuring it out!